We can do more together
Habitat for Humanity and Thrivent are partnering to help make affordable housing a reality for Brevard County through the collaborative Faith Builds program. It's a partnership powered by faith and a passion to build stronger families, churches and communities.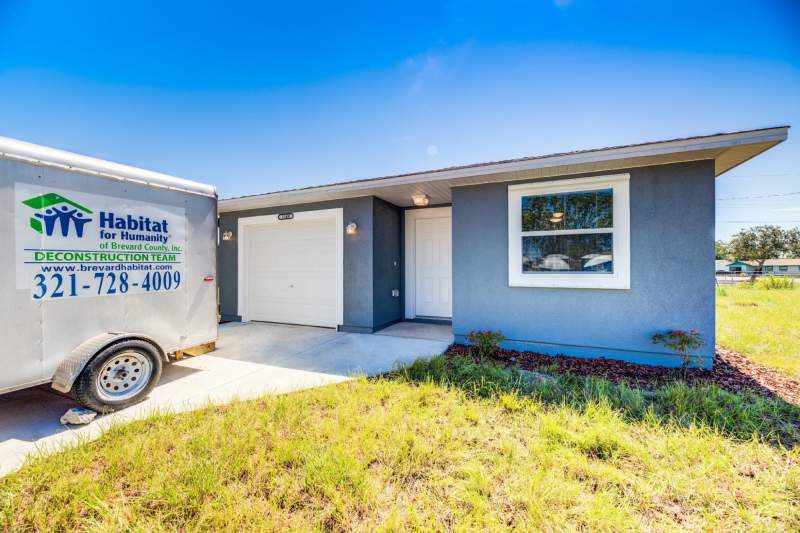 Habitat for Humanity
Habitat for Humanity is a Christian nonprofit housing organization with a mission to put God's love into action by bringing people together to help build strength, stability and self-reliance through shelter.
Thrivent
Thrivent is a membership organization that guides Christians on their Wise With Money Journey, so they can live more content, confident and generous lives. For more than 100 years, Thrivent has helped Christians make wise money choices that reflect their values and offer opportunities to be generous where they live, work and worship.
Since 2005, thousands of home builds and repair projects have been completed by Thrivent members and other generous Habitat for Humanity volunteers. Now, entire churches can help local families in need of decent, affordable housing by joining a Faith Build.
As members of faith based organizations, we are called to build community inside and outside of the church. Faith Builds are a meaningful—and fun—way to answer this call!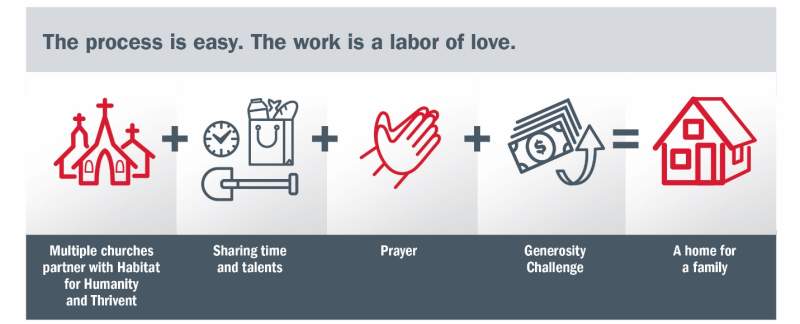 The Process is easy. The work is a labor of love.
Multiple churches partner with Habitat for Humanity and Thrivent [Church icon with plus sign] plus Sharing time and talents [clock, bag of groceries and shovel icon with plus sign] plus prayer [image of hands praying icon with plus sign] plus generosity challenge [dollars icon with equal sign] equal a home for a family [house icon].
How Faith Builds work
Churches commit to becoming a partner in the Faith Build.
Church members generously volunteer their time, choosing to help with construction or non-construction activities.

Volunteer on a build day.
Make a financial contribution.
Provide lunch for on-site workers.
Participate in ground-breaking and dedication events.
Form a prayer group for the Faith Builds.

Thrivent provides up to 50% of the new home cost.
Churches are challenged to match the remaining home cost.
A family moves into their new home!
Need more information or want to become a partner?