Every connection creates the opportunity to build a better life.
Become a Space Coast Builds Sponsor and make an investment in our community to build strength, security and self reliance through shelter. Space Coast Habitat for Humanity is a 501c3 nonprofit dedicated to eliminating substandard housing by building safe and affordable homes for low-income, hardworking families who cannot qualify for a conventional mortgage.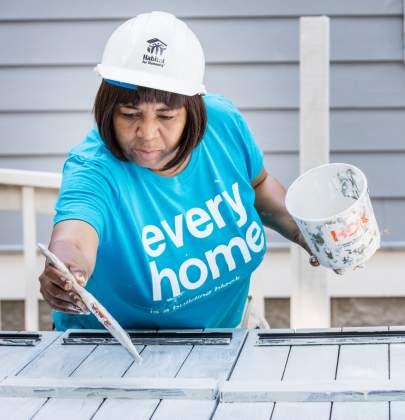 Who are we building for?
Space Coast Habitat for Humanity will build homes for low-income veterans, single and dual parent families, elderly, and people with disabilities. Each (full home) partner family pays a 0% interest mortgage, puts 300 hours of sweat equity labor towards Habitat communities and attends home owner education classes before moving into their own home. Space Coast Habitat for Humanity is a hand up, not a hand out. Together we are helping families have a successful future by providing affordable housing to hard-working, local families and individuals.
What benefits does my company receive from the sponsorship of a Habitat for Humanity home?
Support a homeownership opportunity for a working family in Brevard County.
Team Builds provide a fun and rewarding experience for your company or organization. No previous construction skills are necessary and Habitat will provide all the tools and training you need for success.
Receive positive media and public relations.
The Community Contribution Tax Credit Program (CCTCP) , a state funded program, may assist in the reimbursement of your contribution. Please contact us for further details.
It costs Habitat for Humanity an average of $138,000 in materials and labor to build a home. We ask that you become a Space Coast Builds partner by donating up to the full $138,000 of the required funds. We then work with private donors to provide the rest of the funding.
Exclusive Full Home Sponsorship
1 Opportunity
Joint Sponsorships
Hope Builder - $69,000
Legacy Builder - $30,000
Co-Sponsor Full Home Sponsorship
2 Opportunities
Community Builder - $15,000
4 Opportunities
Dream Builder - $10,000
6 Opportunities
Homebuilder Builder - $7,500
8 Opportunities
Foundation Builder - $5,000
12 Opportunities
Welcome Home Builder - $3,000
20 Opportunities